Luigi Pignatiello Organ Trio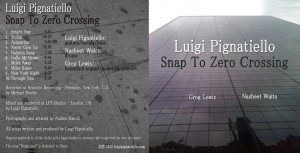 Organ trios were a very popular type of jazz ensemble in the 1950s and 1960s, performing a blues-based style of jazz that incorporated elements of R&B.
In this particular trio, inspired by the "american" Album "Snap to Zero Crossing" recorded with Nasheet Waits on Drums and Greg Lewis on Hammond organ, the Organ plays several roles, including playing bass lines, while the guitar usually 'fills in' the musical parts that the organist is not performing. In this way the whole range of frequencies are covered and the sound is full and rich. This is a very bluesy and energic formation.
Watch on You Tube